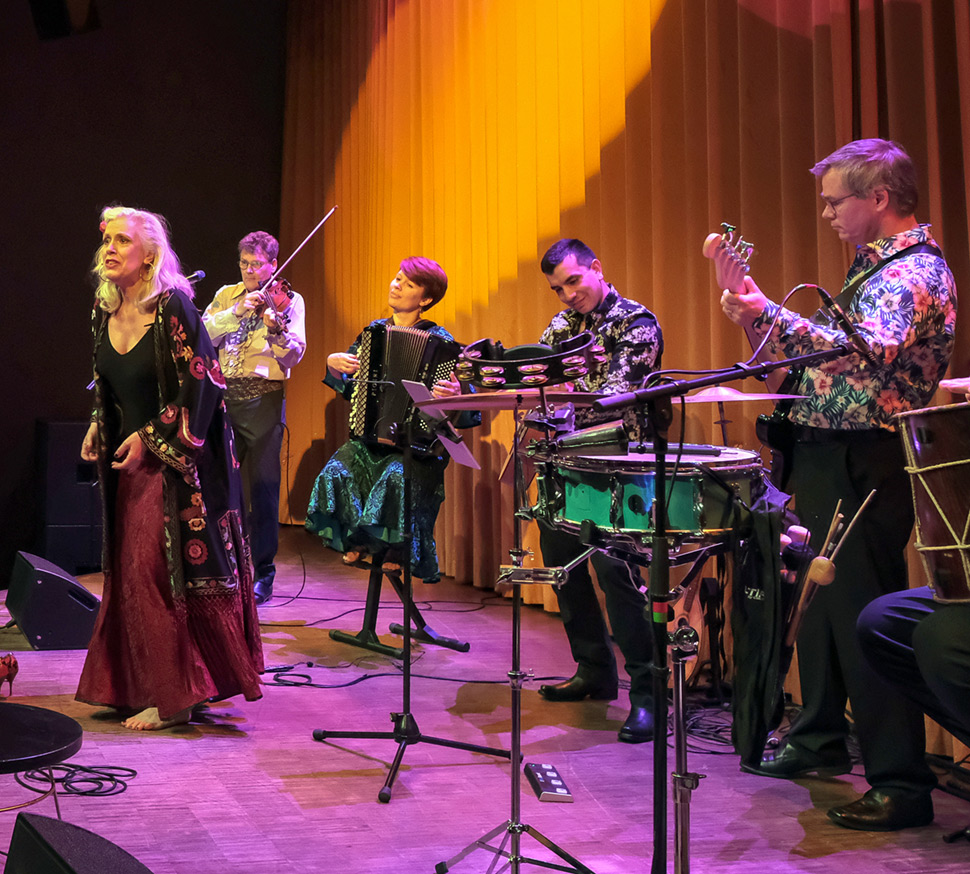 Balkanlab – Balcani & Israele
Giovedì 28 Giugno - Domenica 1 Luglio
BalkanLab consists of six enthusiastic musicians with a strong background in world music. In addition, they share a special love for (gypsy) music from the Balkan area with very exciting rhythms and time signatures. But that is not the only music their hearts go out to. The BalkanLab repertoire also contains Sephardic songs (from the Jews from Spain and Portugal), Romanian music, Mexican (an obvious choice when your guitarist comes from Mexico!) and the Oriental sounds of the Middle East.
Playing for dancers, on dance balls, during dance lessons, and at (inter)national festivals is a common practice for all musicians in BalkanLab already. All members play or played in leading ball and dance orchestras for many years.
BalkanLabs core reason for existing is to play concerts – in theaters, community centers, during festivals, parties and other occasions where people want to enjoy folk music. The band was formed six years ago from a masterclass 'Sevdah' (the ballads from Bosnia-Herzegovina) led by Mišo Petrović. His infectious drive to arrange authentic folk music in a contemporary way whetted our appetite for more. This inspired BalkanLab to explore the boundaries and experiment with crossovers of music from different parts of the world right from the start. All these musical styles together guarantee a varied, swinging musical mix during our concerts.
Artists:
Maja Cuijper: sing
Aisha Harmsen: accordion
Okke Alkema: clarinet, bass guitar, bouzouki
Hans Luijcx: violin, vocals
David Reyna: guitar, Bulgarian tamboura
René Gosse: percussions
Website:
http://www.balkanlab.nl/
http://www.balkanlab.nl/beeld—geluid.html
https://www.facebook.com/balkan.lab
Atelier di danza: Israele
Venerdì / 10:30 / Palco 3
Domenica / 10:30 / Palco 2
Atelier di danza: Balcani
Giovedì / 10:30 / Palco 3
Sabato / 10:30 / Palco 1
Concerti serali: Balcani e Israele
Giovedì / 23:00 / Palco 2
Venerdì / 23:00 / Palco 1
Sabato / 21:30 / Palco 3